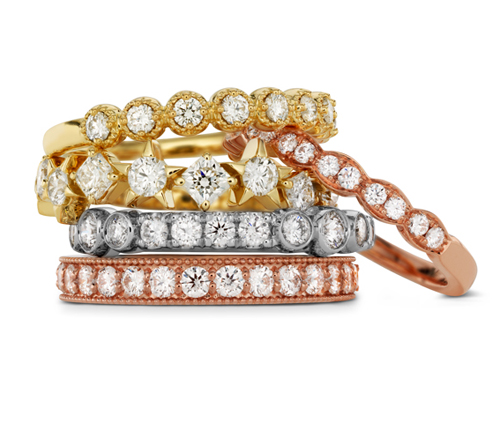 Rose gold wedding bands are a beautiful choice for the engaged couple that wants something a little different. It seems everyone has yellow gold wedding rings, right? You don't have to have yellow gold or even white gold, now rose gold is the hot new choice.
Rose Gold Wedding Bands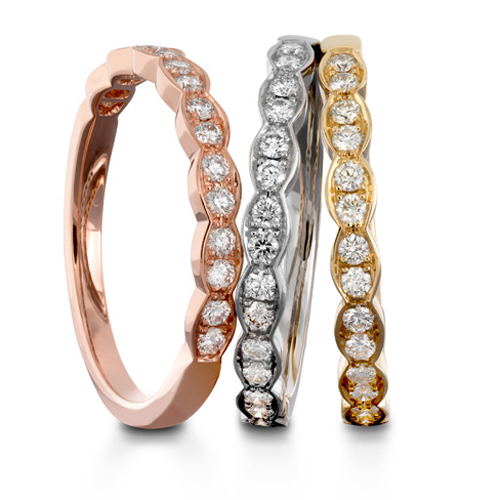 Hearts on Fire, a brand that we carry at Ben David Jewelers in Danville, VA, offers numerous choices of rose gold wedding bands. Most of their rings have the choice of white gold, yellow gold or rose gold. You can also select the size or total number of carats of your diamonds in your wedding band, in many cases. How many choices you get depends on the style, of course. Some styles are fairly tight in their design and there isn't room for a bigger diamond or more diamonds.
Wedding Bands for Men
It is difficult to find rose gold wedding bands for men. So, you might not be able to buy a matching set of wedding rings if you want to buy standard wedding rings. For those who are planning to have only the bride wear rings, this isn't an issue, of course. If the groom will be wearing a wedding band then it is nice to have his match hers. We can custom make a wedding band for the groom, or we can custom make rose gold wedding bands for both the bride and groom!
Custom made rings are a wonderful choice for rose gold wedding bands. You get to make whatever design speaks to you. You are involved with designing the rings from the beginning. In the end you have rings that are 100% unique to you and are exactly what you love. It is important that you really love your rings, because you'll be wearing them for the rest of your life!
Finding the Best Wedding Sets
Of course, you want the very best rose gold wedding bands that money can buy. At Ben David Jewelers we understand that and will take the time with you to help you pick the best choice for you.  Stop by our jewelry store in Danville, VA.  We'd love to help you with your wedding rings.