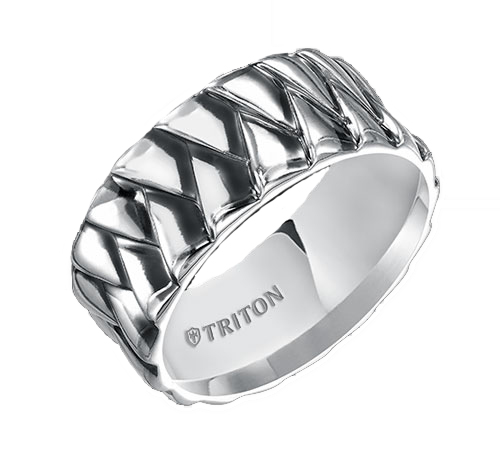 Triton Jewelry is our brand new line of men's wedding bands. Triton goes well beyond just a plain, gold band and offers men lots of manly choices in bands.
Men's Wedding Jewelry Choices
For men's wedding choices, Triton Jewelry has bands in tungsten carbide, sterling silver, titanium, cobalt and stainless steel. For men who enjoy gemstones, some of the men's wedding bands feature diamonds.
Tungsten Carbide
When a men's wedding ring needs to be more scratch resistant and made from a very hard material to keep up with his lifestyle then Tungsten Carbide from Triton Jewelry is the best choice. This patented formula mixes tungsten with carbon and it is ten times harder than gold. It will keep its color and luster for a wedding ring that lasts a lifetime.
Sterling Silver
Sterling Silver allows for a little more style and flash than other metals, making it a popular choice in men's wedding bands. Triton Jewelry has men's wedding sterling silver ring choices that are 92.5% pure silver, which allows for a more creative design.
Titanium
As you are already familiar, titanium is known for being a light-weight metal when used in eyeglasses and in men's wedding bands it holds just as true. It is a strong metal that holds up well for active men and keeps its beautiful titanium luster.
Cobalt
Cobalt isn't the metal you think of when thinking of rings for men's weddings, but this metal has been used in jewelry for hundreds of years. Triton Jewelry turns it into tough, masculine designs that give a bright sheen. Its weight is very similar to gold.
Stainless Steel
Triton Jewelry uses the highest quality of stainless steel (316L) to ensure your men's wedding ring keeps its luster for years. Stainless steel is a low maintenance metal and a popular choice for men.
Men's Wedding Diamond Rings
Some men enjoy diamonds as much as women and Triton Jewelry has plenty of men's wedding options featuring diamonds that the groom is going to love. Diamond colors are available, even the mysterious black diamond. Stop in at our Ben David Jewelers store in Danville, VA, to browse our new line of Triton Jewelry wedding bands.