Wedding Bands by ArtCarved for Men
Wedding bands from ArtCarved for men are made with much more detail and design than most. Ben David Jewelers carries a wide selection of men's wedding bands for you to browse.
Wedding Bands
There is a good variety of men's wedding bands from ArtCarved. You are given great choices in styles, but also in the metals used such as palladium, platinum and three different colors of gold: yellow, rose and white. If you need a wedding band for a guy that is very hard on rings, try out ArtCarved's tungsten carbide wedding bands.
Tungsten Carbide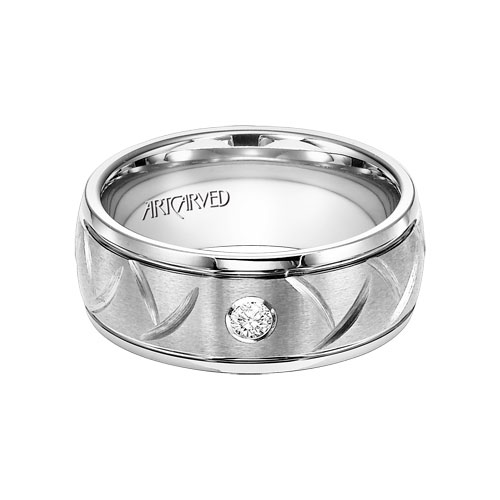 ArtCarved Style #22-V2565HC is Made of Tough Tungsten Carbide
Tungsten Carbide is a manmade metal that holds up beautifully to the abuses a rough and rugged guy can dish out to jewelry. The tungsten material will greatly reduce the number of scratches and dents the active man will usually create. If you want a wedding band that is going to stay in great shape, then ArtCarved has some wonderful designs just for him.
Wade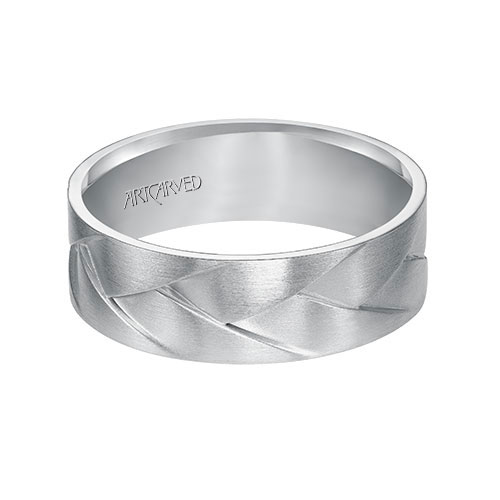 Wade Wedding Band for Men by ArtCarved
Wade is the ArtCarved design 11-WV7458W7 and is in a unique weaved style. This beautiful wedding band for men is available in platinum, palladium, yellow gold and white gold in your choice of 18K or the tougher 14K. It is a nice weave style, but also has a satin finish.
Arwin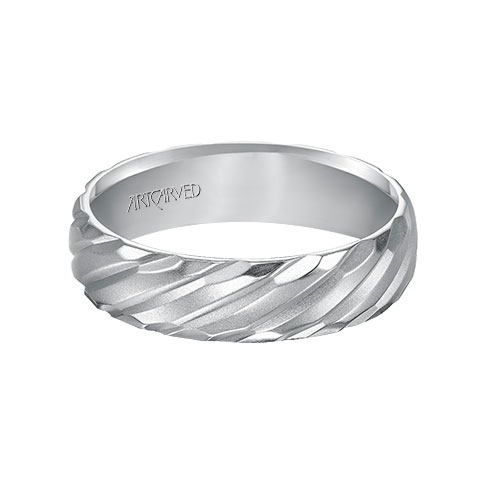 Arwin Wedding Band by ArtCarved
If you are in more of a "groovy" design sort of mood, the ArtCarved Arwin might be just the ring for you. It features deep cuts that are in the shape of ropes. You have your choice between 18K and 14K in either yellow or white gold. It also can be made from palladium or platinum. The finish on this beautiful ring is matte.
Rose Gold Wedding Band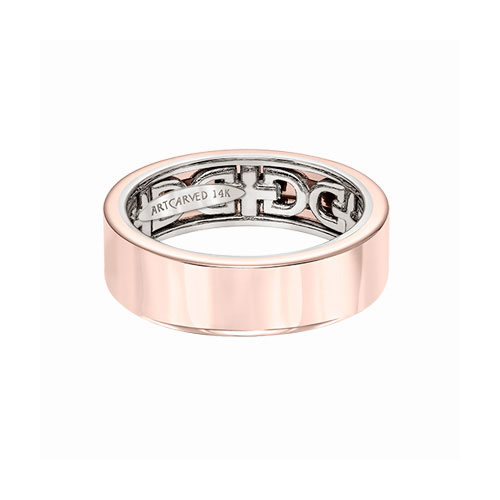 Rose Gold Wedding Band by ArtCarved
ArtCarved makes wedding rings for men in rose gold also, such as this choice that is simply named after its model number of 11-WV16RW7. It is unique in that it has a link pattern inside the ring for a little additional style. This handsome wedding band has a flat profile and brushed finish. It is available in many choices of metals from 14K to 18K gold in either yellow or white, platinum or palladium.
Ben David Jewelers
Ben David Jewelers has the
largest bridal section
in Danville, VA. Whatever you are looking for, our sales staff will be happy to take the time with you to find the exact wedding band sets that you are searching for. We carry numerous designer brands of wedding bands and engagement rings in addition to our own jewelry brand. Let us help you explore all the choices available, so that you can find that perfect ring.