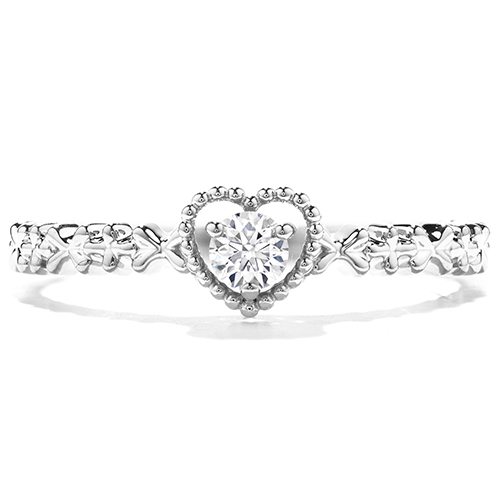 Hearts on Fire Petite Beaded Heart Ring
Wedding invitation wording follows a certain etiquette. You want to make sure you know the rules on this so that your invitation doesn't raise eyebrows or insult your potential guests. Here are some tips to keep your invitation as beautiful as your wedding is going to be.
Wedding Invitation Wording
The wedding invitation wording should be short and sweet. It should answer the who, what, where and when of the wedding. It should not have any other information on it.
So, you want to include on your wedding invitation:
Request the person's presence to the wedding/reception
Who is getting married
What day and time
The location of the wedding and reception
Be sure to include an RSVP card that is written clearly with a blank on how many will be attending in their party. Your printer has a standard form for this and it is best that you use the sample they provide. Include this with a stamped, per-addressed, return envelope so they can just check a box, write the number of guests and put it in the mail.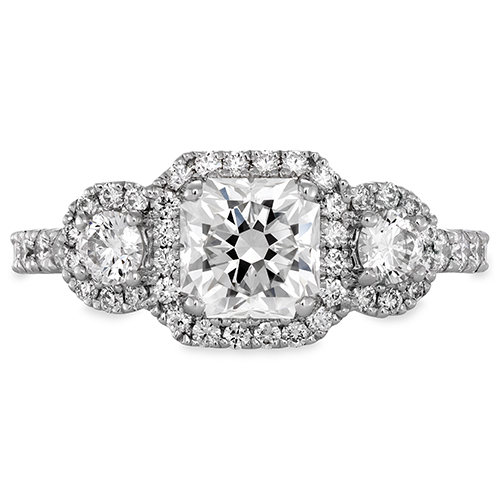 A Sidestone Setting on This Ring by Hearts on Fire
You can get fancy and write out the numbers or just use numbers. Some people enjoy that old fashioned look of spelling out nine o'clock and some prefer the modern 9:00 AM. Either way is just fine. Do make certain you have a couple of people carefully read the invitation before it is printed. Your printer is not going to correct your spelling errors or the wrong date. Invitations are expensive and you will have to pay to reprint them if you have incorrect information or misspellings on them.
Wedding Gifts
Sure, you want to let your guests know ahead of time where you are registered. However, it is considered to be in poor taste to write that information on the wedding invitation itself. It makes it look as though you are demanding gifs from people. There are a couple of ways to handle this situation.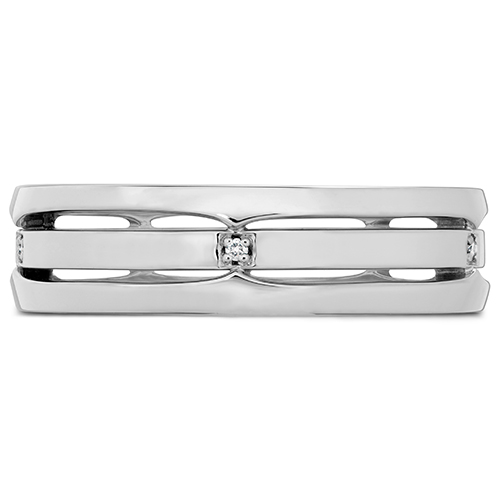 Wedding Ring for Men from Hearts on Fire
Probably easiest way and best way to let your friends and guests know where you are registered for gifts is to include an additional page to the invitation that lets the invitee know they should visit your wedding website for more information. The wedding website will contain lots of helpful information like whether it is a formal wedding, religious wedding, a dress code, parking information and the addresses of the wedding ceremony and the reception with a link to Google Maps. You will also have helpful links for your gift registry if the person wants to buy a gift from there. If you are not going to have a wedding website then you can include a little card with the invitation. On that page you can spell out where you are registered. This is also helpful if you prefer they donate to a specific nonprofit in lieu of gifts.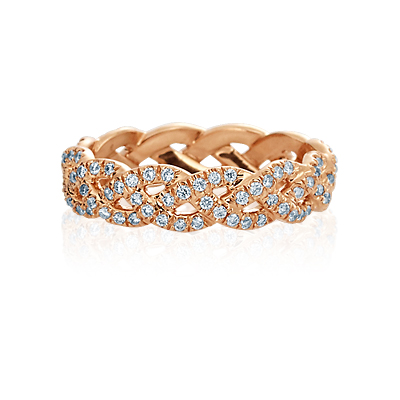 The Eterna 4023 Designed by Verragio
When to Send Your Wedding Invitations
Once you have all the wedding invitation wording worked out then you run to the printer to get them printed. You want to allow plenty of time for the printer to print the invitations. You need to mail them out to your guests eight weeks before the wedding.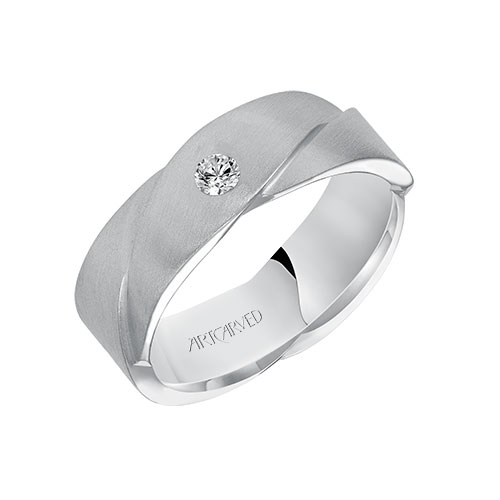 The Charles Wedding Ring Designed by ArtCarved
Gifts for the Bridesmaids and Groomsmen
The sales staff at Ben David Jewelers would be happy to help you pick out just the right wedding invitation wording when you stop in to browse for your wedding bands. Everyone at the store loves to talk weddings and offer their ideas to their customers that feel they need a little help planning. Do be sure to stop by the store once your invitations are sent and you need to shop for gifts for your wedding party. Ben David Jewelers loves to help couples every step of the way! Congrats on your engagement and we hope to see you soon.