Ben David Jewelers is where to buy quality diamonds and get the fairest price. It is here that you find accurate grading of diamonds, so you can be sure you are getting exactly what you're paying for. Our master jeweler is a certified gemologist, specializing in appraisals and buying and selling diamonds.
Where to Buy Quality Diamonds
It is tough to know where to buy quality diamonds if you are not in the industry. There are many shops selling diamonds that are run by salespeople, not professional jewelers that can appraise gemstones. These salespeople have no way of knowing if a diamond is truly the grade that they were told. This is why it is important that you buy diamonds from a reputable and experienced seller.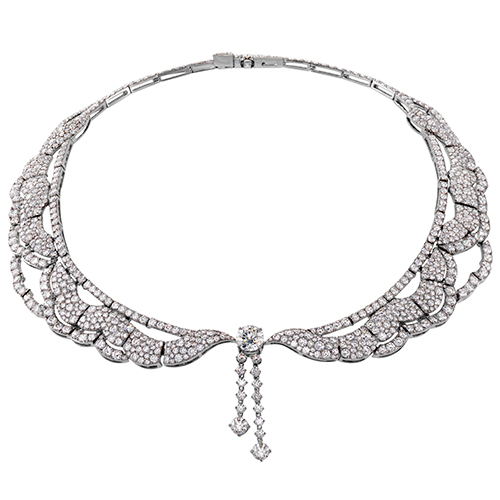 Diamond Collar Necklace by Hearts on Fire
The 4 Cs of Diamonds
There are four different ways the value of a diamond is determined. They are called the 4 Cs. The Cs stand for Cut, Clarity, Color and Carat. All of these Cs will help determine the overall value of the diamond. While cut and carat might be somewhat obvious to a buyer, clarity and color might not. Clarity is an assessment of the blemishes, inclusions and other external and internal characteristics of that particular gemstone. These are its birthmarks and make a diamond easily identifiable. The fewer of these marks there are, the higher the value.
Copley Multiple Diamond Band by Hearts on Fire
Diamond color is where a gemologist's expertise really comes into play. The gemologist will compare the yellowish tint in the diamond to a color chart. There should be a single letter used in the color grade of the diamond, not a wide range.
Getting the Best Price
A certified gemologist will explain exactly why a particular diamond is priced the way it is. You can be certain of the value you are buying and that is why
Ben David Jewelers
is where to buy quality diamonds. You know you will be getting the best value for your money.